Nosara, Costa Rica
Eat & Drink
In the main North Guiones road, just a few steps from our location you can find many options for lunch and dinner.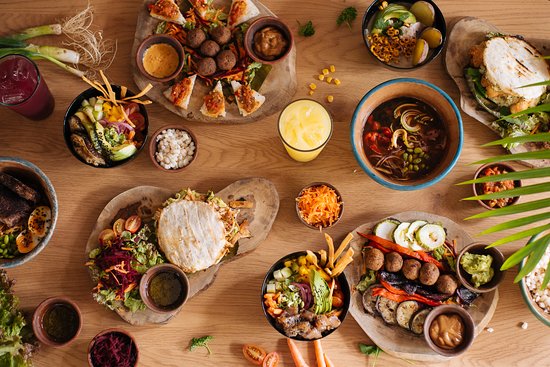 Coconut water is your perfect hydration source for morning walks, you will find coconut sellers in every entrance to Guiones Beach.
Luv Burger, Symbiosis and Naked Foods offer the best vegan food in town. Gabi's Place is a small food court that offers many affordable options such as pizza, sushi, Italian food, a burger joint and an Argentinian grill.
All restaurants and bars are closed after 10pm. Surrounding our location you can also find other options for meals and cocktails such as Howlers bar and El Chivo's Taco Bar. All the juice bars in town offer amazing smoothies and smoothie bowls with seasonal fruits and superfoods.
La Luna  – (+506) 2682 0122 – Grilled kebabs with mediterranean sides, brick oven pizza, red snapper, cocktails.
The Guilded Iguana – (+506) 2215 6949 –

Healthy GI, Open faced sandwich, Ceviche GF …

Naked Foods – (+506) 8712 4463 – Delicious vegan food and Juice Bar.
Gabi's Nosara – Sushis, Tacos, Vegan Foods …
La Brasa – (+506) 4702 2577 – Argentinian Grill Specialties, BBQ, Empanadas, Drinks, Bar …
Coyol – (+506) 8632 9590 – Amazing foods and perfect for sunset.
Bodhi Tree's Restaurant – (+506) 8965-7180 – Buffet Menu and Juice Bar in front of the swimming pool.
Destiny – (+506) 2101 4350 –

Tuna poke, breakfast burrito, kale caesar salad, cloud coffee.

Café de Paris – (+506) 2682 1036 –

Freshly baked baguette, chocolate croissant, sandwiches, salads.

IL BASILICO – (+506) 2682 1472 –

Pizza, shrimp and avocado salad, focaccia, seafood pasta.